Sorry for such a long time between posts but I have been so busy with so many hobbies I have a hard time focusing.
Oh yah! … and there is work, travelling constantly around the globe in itself is a hobby.
But I made it back to the shop to work on a special piece that has been in my backlog ever since I was in Germany and saw this unique idea.
I got a request from a site visitor (god bless Google search) whose friend was becoming a judge to make one of these. What a perfect reason to jump on this project.
I last showed this idea in a post on the  My trip to Patterborn.
The Gavel Bottle Opener
The pictures below show the project sequence which I think is self explanatory, if you have questions please leave a comment.
I can also create plans for this if its deemed useful to enough turners, this time me and my calipers winged is using the one I had as a model.
The wood is blood wood, the puller is a brass drawer pull from Woodcraft, the finish is polyurethane applied on the lathe.

Drilling the hole for cap puller.
Made from a brass drawer pull. I drilled this with my banjo mounted drill jig.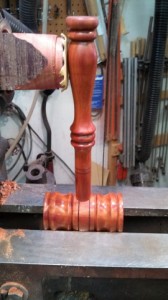 Notes:
In case a Hanger bolt is a foreign term.
A nice gavel turning reference and a clever way to drill a hole in a cylinder dead center…. and to attache the handle without glue …..I will try this next time